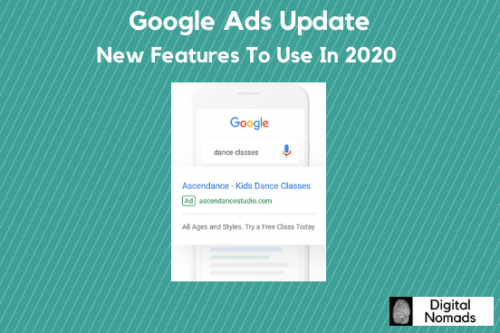 The Benefits of New Google Ads Features for Your Campaigns
Intro
Google Ads has developed 11 biggest updates and innovations during the past year. These changes are going to affect the performance of your Google Ads Hong Kong campaigns. With everything from the retirement of an OG search metric to the introduction of brand-new audiences, 2019 has given people no shortage of topics to discuss.
1.    Removal of Average Position
February 2019 announced the sunset of the average position.
What is the average position?
Based on your bid, in the Google Ads auction, you're assigned an Ad Rank and also your Quality Score. Ad Rank, in turn, determines your ad's position.
However, the Ad position refers to the order of the paid search results and not the location. Just because you win the first position, doesn't mean your ad is shown at the top of the SERP. The average position could technically be below the organic results. Since it fails to show true results, Google decided to make it obsolete and get a new system in place.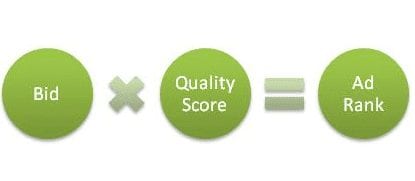 What is the new replacement for the average position?
Google Ads rolled out a new metrics system which consists of top impression rate, top impression share, etc.
Let us see them in detail here.
This is the percentage of your total impressions appearing from the top of the Search engine results page.
Absolute top impression rate
This is the percentage of your total impressions that are appearing from the absolute top of the Search engine results page.
Top impression shares = Absolute Top impressions / Merited Eligible top impressions.
Absolute top impression share
It is the rate at which you can appear at the very top of the SERP into the top actual impressions.
Reactions from PPC professionals ran the gamut, but the consensus seemed to be this. As automated bid solutions become more important to enhance your lead generation process and decide in which position your ads should appear, manual bidding strategies become less useful.
2.    Phrase Broad Exact Match
In July, Google introduced a new match system where same-meaning close variants such as synonyms and paraphrases were matched.
Now, let's define Phrase Match vs. Broad Match and when to use these two match types. Broad Match and Phrase Match Modifiers match search queries with the same meaning. This process increases clicks and conversion by 3-4%.
Broad Match:
It allows Ad appearance when the keyword is found anywhere in the search query.
Example: If you search for a "red hat" then your search will work for "red printed hat", but not for "hat in blue color"
Phrase Match:
It must appear in the search query in the same order as mentioned.
Example: If you search for "red hat" your query will not work for "hat that is red".
Exact Match: 
The ad will appear only if your search query exactly matches your keyword.
Example: If you search for a "red hat" then your search will not work for "printed red hat", but only for "red hat".
Broad Match Modifier (BMM):
It is signified with a '+' sign before the keyword, any search query added with the keyword present, will trigger your ad.
Example: If you search for a "+red +hat" then your search will work for "printed red hats", "colorful hats of reds", all keywords and their variations in any order.
Differently from before the new broad match modifier works with more variations of the keywords (see example below).

As long as you keep a close eye on your search term report, add negatives as necessary, and use your ad copy to speak to your prospects needs, you should be fine.
3.    New Set of Audience
In mid-October Google announced two new audiences.
Affinity means liking or interest in something. With affinity audiences, you can reach people based on the similar liking of their sports, lifestyles, movies, passions, and habits.
For Example:
If you wish to promote the latest movie, you could target the "romantic movie lovers" affinity audience.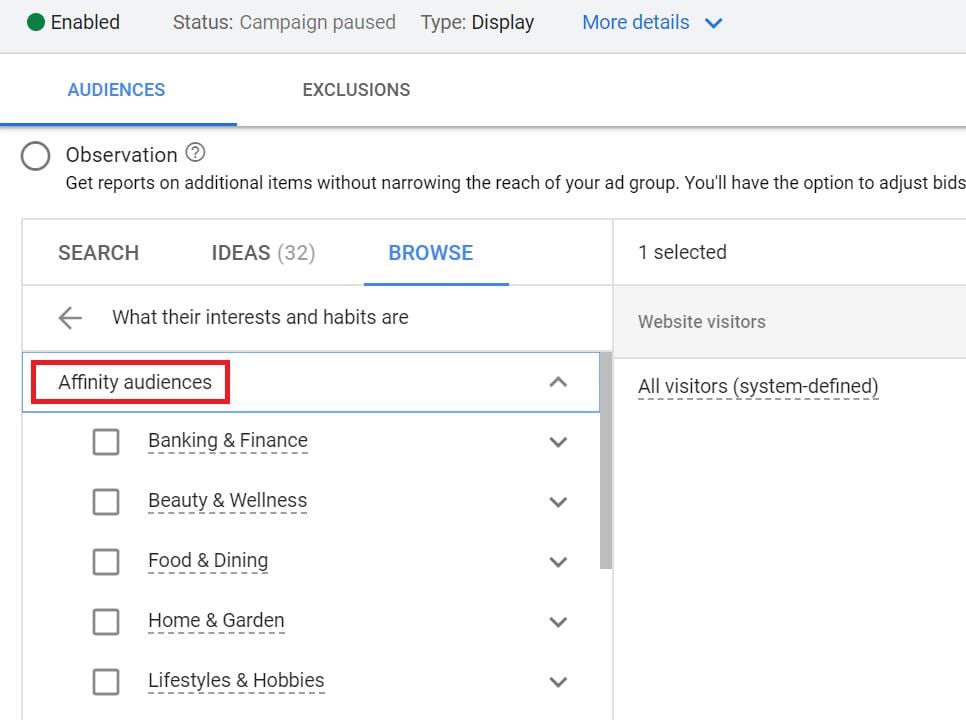 By layering affinity audiences on top of your keywords, you will be able to refine your search campaigns and focus on the prospects who are truly interested in what you're selling and thus increase your lead generation through your Google Ads campaign.
Seasonal event segments for in-market audiences.
Seasonal events include events such as Halloween, Black Friday, Chinese New Year, Christmas, etc. This helps focus on people who are active during these seasons or holidays and looking for such products.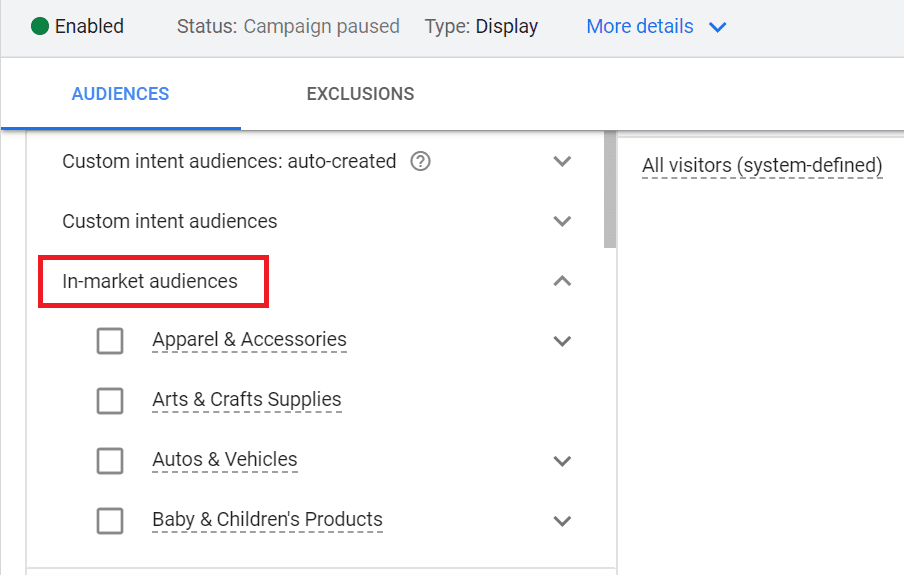 Just in time for the holiday season, seasonal event segments will allow you to connect with consumers who are actively researching a product or service in preparation for a specific occasion. Since you know why the consumers grouped in a particular segment are looking for a business like yours, you will be able to refine your messaging like never before and you will be able to increase dramatically the leads generated by your advertising campaign.
4.    Audience Expansion Tool
In 2019, Google Marketing Live announced the audience expansion tool.
There is constantly an onset of new audiences, folks and persons to target. This expansion tool helps you find the characteristics of new audiences and use it for your benefit.
In Facebook's Audience Insights tool, you can input your top competitors or famous brands and look at the audience for that brand.
For example, if you're a pet store/brand, you could put in audiences that have an interest in dog treats and understand their likes and interests.
You should also look at the Google Display Network (GDN) campaigns. If you're spending a big budget within GDN, this information can be extremely useful.

At the very least, that should encourage you to take the audience expansion tool for a spin. Don't forget that a constant check on the enlarged audience with a regular placement performance report will be fundamental to increase the ROI of your lead generation campaign.
5. Removal of Accelerated Delivery
Accelerated delivery used to serve as an option when you wanted to show your ad as fast as possible for a certain amount of daily budget. If your score for a given keyword was lagging, for example, accelerated delivery could function as a gas pedal of sorts—a way to get in front of prospects nonetheless.
However, Google improved and made standard delivery more predictive.
Google felt for small or midsize business working with a limited daily budget accelerated delivery is not cost-effective, it's often best for small-budget advertisers to opt for standard delivery and capitalize on as many low-cost opportunities as possible and maximize their cost-effective lead generation strategy.
6. Advertise Extensions
Google recently unveiled the brand new lead form ad extension; we have already talked about it in our previous article covering the usage of these forms on YouTube. With a lead form ad extension—which is not, as of now, available for desktop advertisements—you can collect your prospects' contact information without asking them to leave the SERP.
How do you create and use a lead form extension on any search engine?
Thanks to small screens and low levels of patience (among other things), getting users to convert from their Smartphone's and tablets is no easy task.
If a user is signed into their Google account at the time, they see your ad, clicking on the extension will bring them to a Google-hosted form that's already pre-populated with their contact information.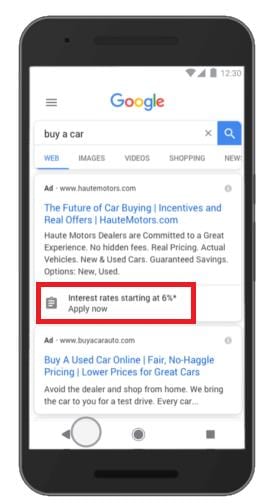 7. The arrival of campaign-level conversions
Although this year's conference was jam-packed with innovations related to Smart Bidding—Google's suite of automated solutions that use machine learning to optimize your bids for specific conversion goals—one of them, in my opinion, stood out from the rest: campaign-level conversions.
"All conversions" include the information in your "Conversions" column. It also includes conversion actions you've chosen not to incorporate in your "Conversions" column.
Other things it includes are store visits, certain phone calls, etc.All this gives you a good understanding of how users interact with your business. Your advertising effectiveness can be better calculated through this method.
This represents a great help for the optimization of your Google Ads campaigns in Hong Kong as they help you to be more specific in the kind of conversion you want to focus your efforts on.


Bumper Machine
This machine is a tool that allows anyone who creates a video shorter than 90 seconds to build a series of YouTube-ready bumper Ads. Bumper ads are 6-second ads that play during your YouTube video. A series of three bumper ads leave a fantastic impression on consumers rather than one long ad. Bumper Machine saves time and effort. It converts longer video and delivers multiple bumper ads.
The Bumper Machine technology can be used to identify things like the brand logo, motions, and faces and create short ads.
9. Show user-generated images in Google Shopping reviews
If you think about it, successfully convincing a recent customer to submit a review of your product is just like driving any other conversion. There's an action you want people to complete, and you're trying to find ways to incentivize them to do so. Using the brand new XML schema for Google Product Review Feeds, you can upload the photos that your clients have posted about your product or service.
Here are the 3 best practices for accumulating Google Shopping reviews
·       Just asking for the images.
·       Adding some extra and personalized incentives.
·       Make it easy to submit a review for customers.
10. Responsive Display Ads
They drive more impressions since they are getting increasing preference and more clicks since they are extremely visually appealing. They are more accessible than other advertisements.
Responsive display Ads can be used in standard display and smart display campaigns.
To create a responsive display ad, upload your photos, topics, logos, videos, and descriptions. Now Google automatically generates ads that can be shown on the Google Display Network.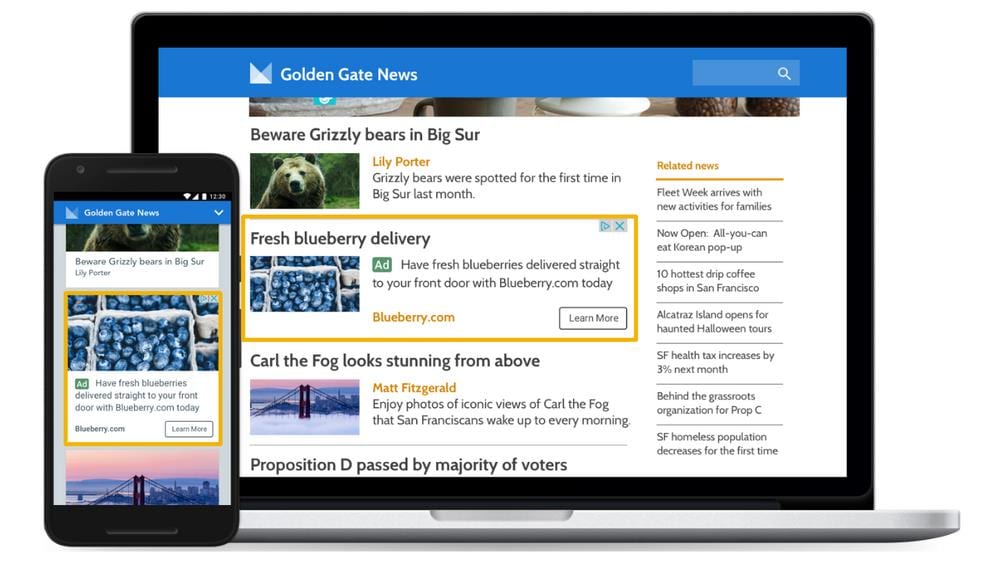 What are the advantages of this update?
Added impressions: Google prefers responsive display ads over standard banner ads.
Added clicks: Responsive display ads—especially those that feature video content—are more engaging than standard banner ads.
Added accessibility: Unlike standard banner ads—which take time, resources, and expertise to continually optimize—responsive display ads are semi-automated.
11. Gallery ads
Last but not least, we have got gallery Ads. These are the brand-new mobile Ad types unveiled at Google Marketing Live and which are currently available as a beta among select advertisers. (Unfortunately, this kind of ads is not yet available to the Google Ads advertisers based in Hong Kong).
Here's the example Google distributed on the day of the announcement.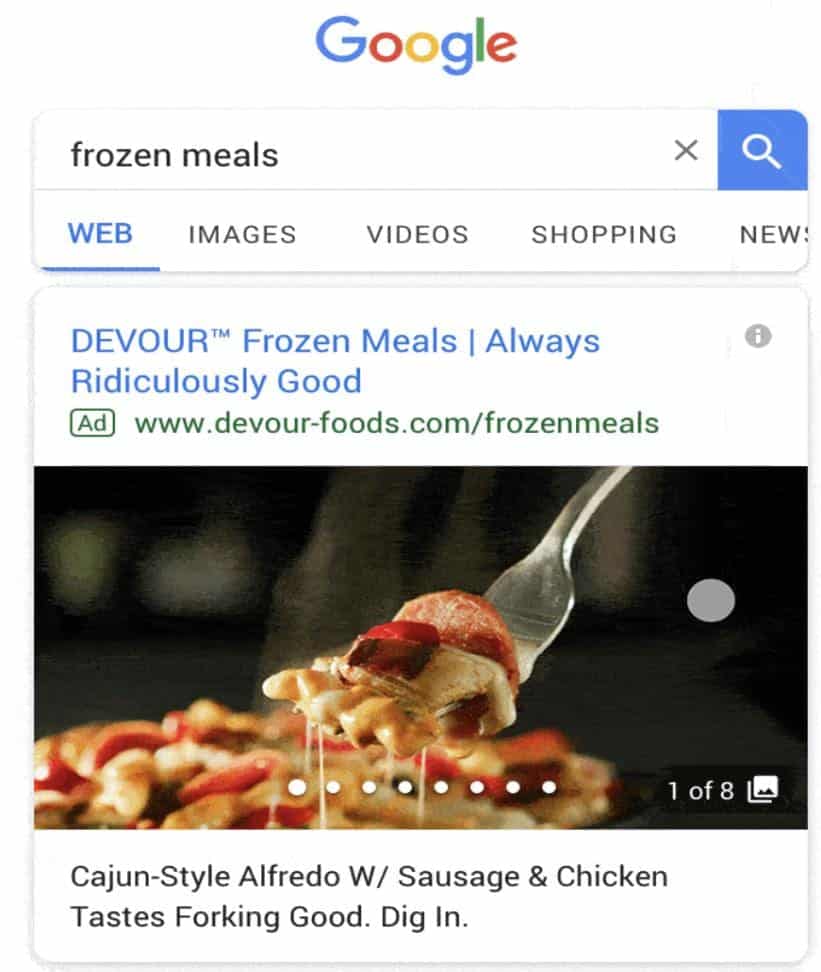 As you can see, a gallery ad—which, when triggered, appears at the top of the SERP—features a swipeable carousel of up to eight unique images. Above the carousel are a clickable headline and a display URL, and below each image is a brief caption. Once you have access to gallery ads, you'll be able to submit three unique headlines for each ad, thus giving you the power to test out different combinations of value props and CTAs.
Conclusion
All these newly introduced features represent an important advancement for Google Ads, not only for Hong Kong users. After almost 20 years from its launch in the market, this advertising tool is in continuous development due to the evolution of the online marketing scenario.
As a good practice, you should always be acquainted with and test the new features. This behavior represents the most effective way possible to improve ROI and performance of your lead generation Ads and process.
If you still feel uncertain on how you can take full advantage of and maximize your Google Ads performance with these new features, get in touch with us for a free consult.