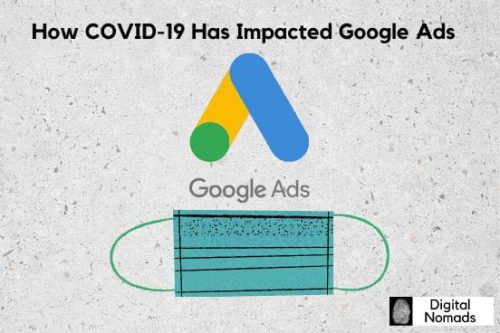 Google Ads During COVID-19
Introduction
In a matter of a few months, the COVID-19 has had a transformational effect on our world order. The impact of this pandemic has been so massive that even Google is not left untouched by it. 
The financial slump has taken a toll on people, as a result of which they are not yet in a position to spend. Besides, there have been some new additions in the world of search terms such as quarantine and social distancing.
Google Trends has also come up with an exclusive coronavirus insights page that is specially designed to get an idea about what consumers are actually looking for nowadays.
As per Google, there has been a 260% rise in searches related to COVID-19 since the beginning of February 2020.
But how has this pandemic impacted the world of Google Ads?
As far as businesses are concerned, there has been a huge change in the buying behavior of customers. This change is one of the most prominent factors that have come to impact PPC or Pay Per Click advertising.
According to Wordstream, there was a 21% decline in conversion rates merely 3 weeks into the COVID-19 outbreak. As per a study by IAB, digital spending will witness a 33% slump in the months from March-June this year.
Let's look closer into the situation.
Top Consumer Trends in Google Ads Ever Since the Outbreak of COVID-19
COVID-19 has affected Google Ads in different ways, which is quite true to how things get influenced in the marketing world. Irrespective of your business size and type, there are certain common trends that have emerged across industries. Check out some of the major changes in consumer trends since the outbreak of COVID-19, and how these changes will come to impact your marketing strategies in the upcoming times –
New Consumer Concerns:
As per Google, there have been 5 key changes in consumer trends impacting search:
     

Collecting important information

     

Seeking new associations

     

Coming to terms with a new life order and routine

     

Showing gratitude to frontline heroes

     

Increased interest in self care with growing concern for others
Insight: It's highly recommended for you and your team to keep in mind these key changes in consumer trends, not just to offer support to your clientele, but also make them believe that you actually care for them via your services or online content.
It's extremely important to note that this is not exactly a money-making endeavor. Instead, this approach will help grow your social presence, make a new mark for your brand, and stand apart from your competitors.
Increase in Night Searches:
Another change in consumer behavior that has been trending since the COVID-19 outbreak is an increase in searches during the night, consequently impacting impressions on Google.
Insight: Before this pandemic, searches during the night hardly contributed to growth in conversion rates. But, things have changed dramatically since then.
Keeping this change in mind, you must plan a small budget that is solely dedicated to run your ads even at odd hours.
If you leverage on non-business hours to run your ads, it will quite likely give you a chance to grow your brand awareness and retarget the same users for an overall increased conversion rate. You can read more about how to maximize the results coming from your remarketing campaigns in Honk Kong in this article.
Misleading Intent:
With a drastic increase in certain keyword searches, it is quite likely for many campaigns to lose their targeting.
For instance, you might notice a sudden rise in keyword searches concerning flights. But, as a matter of fact, what these customers are actually searching for is cancellation information. So, by investing in a PPC campaign surrounding such keywords, you will only end up wasting your marketing budget.
Insight: Keeping in mind the present scenario, it is extremely important to consistently look into your Google Ads account. Usually, it is recommended to check your Google Ads account about two to three times a week, while your budget will also play a crucial role in deciding that. But, as far as these times are concerned, you must make a point to check your account on a daily basis.
One of the best ways to prevent wasting your ad spends on inappropriate searches is to evaluate the report of search terms. Doing so you will figure out the confusing keywords, making it easier for you to mark them out as unhelpful in your PPC campaigns. Once you mark these keywords as negative, Google will stop showing your ads in searches concerning that particular keyword. Read here why adding negative keywords is an essential part of the optimization process of your Google Ads campaign.
A Focus on COVID-19 Response:
People are noticing the slightest details as to how a business or brand is responding to the current pandemic situation. How you act and react to COVID-19 situation is more important than you think, as it is something that is going to leave a strong mark on your consumer base as well their loyalty towards your brand.
Insight: It's plain common sense that in these trying times, you must respond to your potential audience's needs and expectations in the best way possible, be it; answering calls, reverting back mails, social media posts, website updates, or making it a point to update your Google My Business.
Failing in these areas will end up putting your business in really bad light and create even a worse impact on your business post COVID-19. It's high time that you turn to your Google Ads account and analyze the changes that are required to make to uplift your business in the best way possible.
How COVID-19 is Affecting Google Advertisers across Industries
As per Wordstream data, there are certain industries that have even experienced a growth in their PPC campaigns since the pandemic, which means that it is not all bad news for all industries. Here is how COVID-19 outbreak has come to impact different industries:
     

Nonprofits:

With more and more people wanting to contribute, the nonprofits sector has witnessed a sharp 23% rise in its ad conversions.
     

Health and Medical:

As regular washing of hands and wearing masks in public is the new normal, the health and medical industry, especially pharmaceuticals is too witnessing an increase in its search ad conversions.
     

Business Management:

With work from home being the new norm, businesses are consistently striving to manage their online operations in the best way possible. This is exactly why there has been a marker 107% increase in packing and shipping search ad conversions.
     

Finance:

Despite the financial slump, there has been some increase in CTR's and CVR's, while CPC continues to drop.
     

Beauty and Personal Care:

The very fact that most salons are not yet open has led to a 41% CVR growth in the DIY care industry.
     

Streaming Media:

Staying at home has immensely contributed to a 102% increase in search conversions for streaming media and entertainment.
     

Greetings, Gifts and Flowers:

Being apart hasn't stopped people from expressing their love via bouquets and flowers which has led to a 43% rise in conversion rates in the industry.
     

Travel and Tourism:

Holiday packages witnessed a 50% conversion drop, owing to travel restrictions imposed by the authorities.
     

Bars and Restaurants:

Despite remaining open for take aways, searches for bars and restaurants have also dropped significantly.
     

Live Entertainment:

The need for social distancing has led to 30% drop in search conversion rates in this industry.
     

Conferences:

The pandemic has led to lower conversion rates in this category as well.
     

Sports and Fitness:

Whether its sports events or gyms, the conversions have hit a deep low.
     

Building and Construction:

With most sites closed or lack of investment, building and construction is also experiencing a big time low in conversions.
     

Industrial and Manufacturing:

The COVID-19 outbreak has decreased search ad conversions for most industries.
This is the right time to start your marketing campaign with a small budget and analyze your Google Ads account to come up with great results.
What Does the Future Hold? How to flourish on the other side of COVID-19 with Google Ads
As one of the most experienced Google Ads digital marketing agencies in Hong Kong we have noticed a few things over the past two months.
There has been a remarkable shift in conversations with clients from that of growth to scaling back.
A few clients put a stop to all ads at once, while some looked into data for optimum solutions.
It is only by analyzing the current trends and data that one can keep their business running on a real ground.
We are committed to help you with data that will not just keep your business afloat in these testing times, but also help you emerge stronger than ever.
Now it is more important than ever to revise your Google Ads strategy by reviewing your data for the past three months. It is only by analyzing that you'll be able to figure out what's helping you grow and what's wasting your ad spend. 
If you are not sure how to come up with an effective strategy to run successfully your Google Ads lead generation campaigns during the pandemic get in touch with us for a free consult.