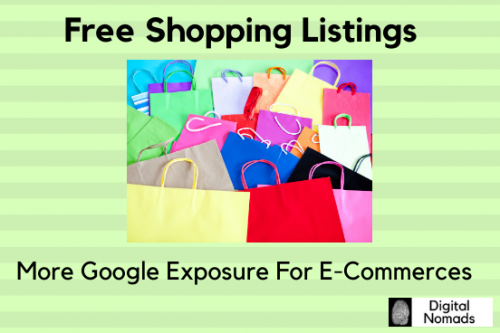 What's changing in the Google E-Commerce World
Next time you use Google to search for a product, you'll probably notice a difference. Unlike earlier when paid product listings dominated your search results, unpaid product listings will now take the lead on the Google Shopping tab. 
Paid Shopping Ads will continue to appear on the main search tab, you can find more info about their set-up and optimisation here. 
Bill Ready, the president of Google's commerce section was the one who first threw light on this new move by the company. Bill posted a blog in which he highlighted how the Coronavirus outbreak incited a shift in Google's shopping results. According to him, the plan already existed before, and will be brought into action shortly. This is one decision that has completely turned the tables for paid ads and free listings.
The Coronavirus pandemic has come as a big hit to businesses all over the world. Therefore, by offering free listings to retailers, Google is doing its part to support them in this crisis.
Once the plan is put into action, Google's Shopping tab will predominantly offer free and unpaid product listings. This will have a significant impact on small and medium sized retailers and merchants, as they'll get a chance to connect with their potential clients in a more effective way. No matter if they haven't used paid advertising, they'll still be able to use a predominant platform to get their products listed on Google's Shopping tab.
Every day, there are over a hundred million product searches on Google. But, despite the fact that a lot of retailers have stocks of products that are needed by consumers, they fail to sell due to a hidden online presence.
Google plans to go about expanding free listings by the end of April. In the initial phase, the company will only implement this change in the US. But, before the year ends, also retailers in Hong Kong and worldwide will begin to benefit from this move by Google.
The Challenge To Amazon
All this time when Google is presenting this switch as an endeavor to aid distressed merchants during a pandemic crisis, it's also an opportunity for the company to expand its horizon in global ecommerce. With staying at home as the new normal, and the majority of shops and retailing outlets closed; ecommerce is experiencing a massive boost. Even in Hong Kong consumers are increasingly spending more money online thus diminishing the webrooming activity (search online – buy offline) which is a common behavior of the city shoppers. 
Unlike Amazon that is continuing to witness an upsurge in its profits amidst the pandemic, Google is facing a setback from advertisers who are not in a position to stick with their marketing budgets due to the crisis.
Now, if this new move in Google Shopping is successful and the ad giant is able to improve its part of shopping traffic, then it automatically increases Google's chances to get back in the game with full power. This is possible if Google is able to take hold of listings clicks from buyers, who also have an option to search right away on Amazon.
Google's Strategy
According to Google, the switch to free listings is a win-win situation for all. On one hand, there are merchants who are getting a chance to connect with consumers who need their products. On second hand, there are consumers who are getting a wide range of options to choose for their shopping needs. Last but not least, there are advertisers who can enhance their Google Shopping Ads with the added benefit of free listings.
Looking back you'll see that by taking this step Google has brought into play its debut version of free Shopping tab, previously known as Froogle. It was only in the year 2012 that paid listings came into play for Google.
You must not think of this switch as a step by Google to do away with all its paid ads. Even now, when you search for product keywords, you'll get to see paid listings in top slots. Paid listings will continue to represent one of the most effective way for retailers to develop their lead generation and get more sales.
How to Access The Free Shopping Listings
If you are a retailer who is familiar with the merchant center and has already signed up to experience "surfaces across Google program", there will not be much difference to what you could already find in concern to your unpaid and free listing searches.
You can opt for the same by going to the tab "growth", followed by selecting "manage programs" and finally select "surfaces across Google".
As a best practice Google even suggests adding new products to your feed, so that more products get an exposure for free listings.
If you are new to using Google's Merchant Center, then it's likely for you to get a delayed access, as the search giant plans on transforming its processes.

Google's Partnerships
Apart from the focus on free and unpaid listings, Google has also added a new dimension by partnering with PayPal. This partnership will help retailers link their accounts, speed up inventory processes and enhance overall user experience. Shopify, WooCommerce and BigCommerce are another three platforms that are already in partnership with Google to help merchants with their shopping listings.
It's quite evident that Google has been focusing a lot on its ecommerce division since the past one year. For instance, last year the search giant merged its Google Express shopping with Google Shopping. It even incorporated Google lens into its shopping tab to help shoppers look for products that are similar to the ones in pictures.
Google has been quite similar to Amazon in creating a personalized and customized shopping home page that is in perfect sync with the preferences and buying behavior of each shopper. But, at this time when merchants are going through a period of financial strain, Google needs to open its arms to more and more retailers to stay strong in the ecommerce game.
What Digital Nomads Hong Kong can do for you
Our Digital Marketing agency has helped retailers in Hong Kong to start and develop their Shopping campaigns. If you are unsure on how to take advantage of the new free listings option or need support in maximising the results coming from your shopping campaigns get in touch for a free consultation.